New Year Open House + Reunion
Join us to say hello and (re)connect on all things Theory U and education.
What are you learning and experiencing? Where are you engaging? Who are you connecting with? What future is emerging?
Let's gather together around the fire for spiritual nourishment and inspiration for the year ahead.
All welcome, new friends and old.
Sunday, January 1
4 to 5:30pm ET
Zoom link: https://maine.zoom.us/j/84478278021?pwd=WVVLR0Eyb09tM1VGMFdoQ2t1OExIUT09
Previous Events
We are thrilled to be partnering with Dr. Angel Acosta again, this year to support the second Healing-Centered Education Summit: Play, Slow Work, & Our Collective Flourishing, October 7-10, 2022.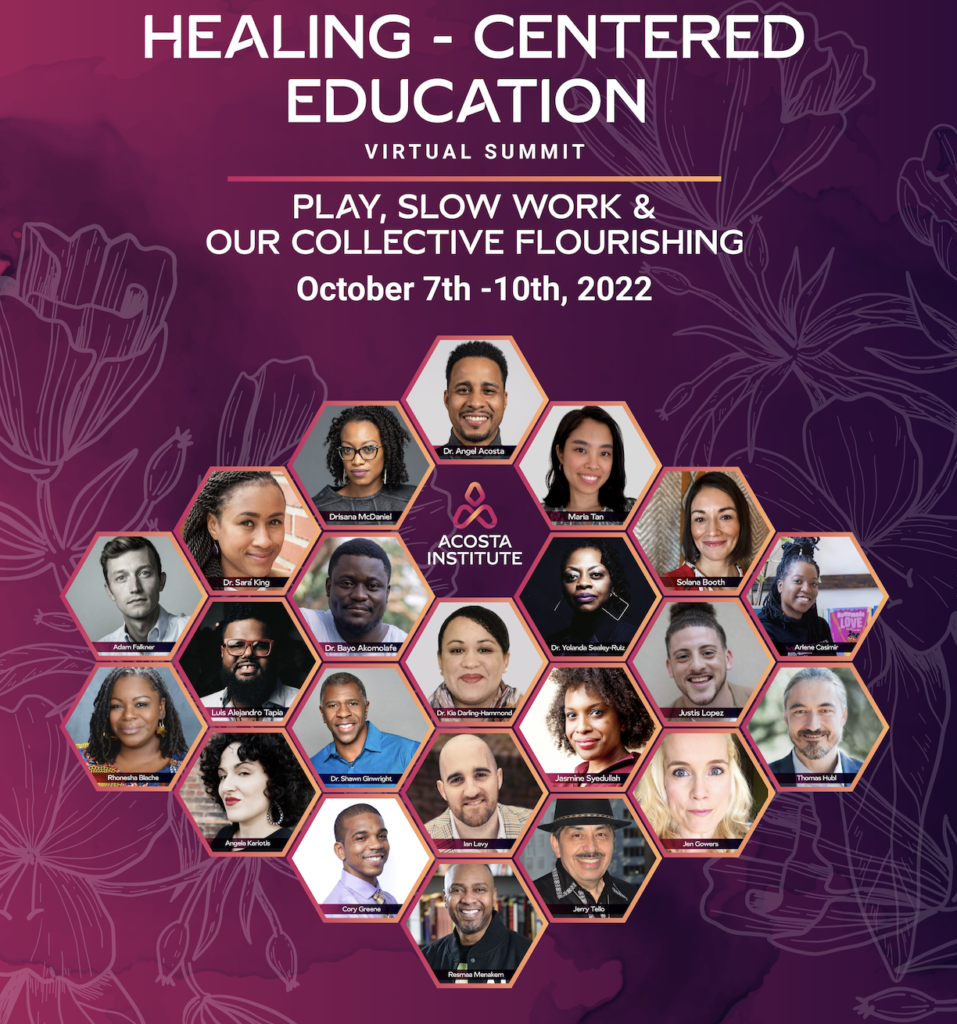 How do we create conditions for collective flourishing through slow work and play?
How do we lean on healing-centered practices and contemplative approaches to justice and equity work?
How does slow work and play connect to liberatory and equity-centered principles?
We are currently fundraising for Maine educators to attend the Summit.
Please contact us if you can contribute! Even $25 helps when we combine multiple gifts.
Community Gatherings for Re-Enlivening Educationin Portland, Maine
ALL of our students need to matter to this community. This is fundamental to human wellbeing.
April gatherings
Monday, April 11, 5pm & Thursday, April 28, 7:30pm
ZOOM LINK
We are gathering twice per month — 2nd Monday and 4th Thursday — with interested parents, educators, and community members to share the need and generate energy for realizing the vision of equitable, connected, and responsive free, full-day learning environments in Portland, Maine. Share your story and hear others.
Join us, and bring your friends, teachers, children — all are welcome. Any change initiatives need to be grounded in collaboration and community, so let's use our collective wisdom and energy to shift the system together. Our state-level education leaders have a "whole child" philosophy, which is an integral part of a re-enlivening. But the work is nowhere near done, and they can't do it alone. And, there is much good happening in Portland schools now and behind the scenes with truly inspired curriculum leaders. Yet without activated community support for a deep shift in the priorities for, and methods used in, school, we risk simply making what we have now just a bit better for some students. School can be the place children and youth WANT to be. 
Fill out our contact form to let us know you are coming, and we will send you a zoom link. (OR SEE LINK ABOVE)
Themes we will explore are:
What is equitable education, and what does it look like?
What's going right? Where are examples of what we need to grow?
How can learning be humanized for children and teachers?
How can learning environments INCREASE mental health and happiness while also preparing children for the future?
What is an Innovation School, and how do they work in Maine?
Who else needs to be in the room?
What are effective systems change models we can use to make change right now?
Can We Decolonize Educational Spaces? with Starr Kelly
Wednesday, March 9th, 6pm-7:30pm (Via Zoom Webinar)

Register here: https://usm.maine.edu/convocation/can-we-decolonize-educational-spaces-starr-kelly
This event will be live-captioned. FREE, presented by University of Southern Maine.

Program Description: In this presentation Starr Kelly, Director of Education and Exhibits at the Children's Museum & Theatre, will take a critical look at common social studies curriculum structures. Starr asks pointed questions about power in order to reframe dominant understandings of colonization, empire-building, and teaching history. By using inquiry to center the dignity of Native peoples she unseats the presumed superiority of empire so common in dominant culture. Starr will look at the future possibilities through her ongoing work with Portland Public Schools and Wabanaki advisers as they seek to build a cross-disciplinary, district-wide Wabanaki Studies curriculum.

Presenter Bio: Starr Kelly is Director of Education and Exhibits for the Children's Museum & Theatre of Maine located in Portland. She is a citizen of Kitigan Zibi Anishinabeg, an Algonquin First Nation community in Canada. Throughout her career, Starr's work has centered on decolonizing methodologies and Indigenous education. Starr has worked as a middle and high school social studies teacher, and is a social justice oriented educator, developing what she refers to as a "curriculum for dignity." In her current role, Starr is working closely with Portland Public Schools to develop their Wabanaki Studies curriculum through a decolonizing framework. She is a graduate of Colgate University where she received her B.A. in Native American Studies, before continuing at Colgate to receive her Masters of Teaching in secondary social studies education.